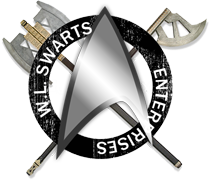 Your cart is currently empty
Within These Walls - A Novel
450 pages.
ISBN-13: 9780738855288
ISBN: 0738855286
Novelist W.L. Swarts's stunning debut, Within These Walls! EACH order comes hand signed by the author!
From the back of the book:
"True love never dies." This intense novel seeks to prove that theory using a collection of eclectic characters and four unique narrative perspectives. In a book populated by artists and supermodels, nothing is quite as it seems, a fact which most of the characters seem to accept. The stories of a small family set in an idealized rural New York state are told relativistically by an asocial divorced novelist, chronologically by a pragmatic lesbian aerobics instructor, reverse chronologically by a young misguided philosopher, and without any respect to time by a brilliant insane artist.
The tale of a family growing up and growing together is anything but simple when the focal point is world famous supermodel Valerie Hutchinson who leaves her husband Sam when she falls in love with Jennifer. Complicating the new pairing is her son, Michael, who keeps Sam in her life and house. While Michael grows older, however, Jennifer comes to believe that things are even more complicated than they appear, as Michael develops traits and opinions once developed by someone in her past, who should not be able to influence him . . . Told with humor, unabashed sexuality, and sharp dialogue, Within These Walls unfolds as a character-driven tragedy in the literary tradition of William Faulkner's The Sound and the Fury and Eugene O'Neil's Long Day's Journey Into Night.
Author Biography: W.L. Swarts has been writing novels for six years and short stories for three years prior to that. The novelist grew up in New York State and has lived there since, currently residing in upstate New York where the stars are visible at night. W.L. may often be found walking beside bodies of water feeding ducks and complaining to all who will listen about how all of the best television shows have been canceled.
Each copy comes hand signed by the author; if you wish it to be inscribed to a person other than whose name is on the account, please put a note in with your purchase.