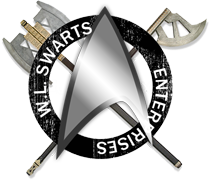 Your cart is currently empty
***W.L. Swarts Enterprises EXCLUSIVE!*** Star Trek The Next Generation Episode Collection Season Seven A17 Lee Arenberg As DaiMon Bok EXCLUSIVE INSCRIPTION AUTOGRAPH CARD!!! 6/10
MINT! This is the Star Trek The Next Generation Season Seven autograph card A17 Lee Arenberg as DaiMon Bok from the "Star Trek: The Next Generation" Episode Collection Season Seven trading cards produced by SkyBox! While this is the SkyBox A17 autograph card, it is a distinct inscription variant that was never found in packs or boxes of the TNG Season 7 trading cards. This card is a unique variant that has the following differences from the pack-released card:
1. Mr. Arenberg signed the card in silver ink,
2. Mr. Arenberg wrote his distinctive Bok (Ferengi) line from the episode "Bloodlines" where he played DaiMon Bok, "I insist on being paid!",
3. Mr. Arenberg individually numbered each variant card. This is card 6/10!,
and 4. The card does not have a SkyBox embossing on it.
This is a great card for fans of Lee Arenberg (DaiMon Bok, Sleepy on "Once Upon A Time")! There are only TEN (10) of this variant and most are already in the hands of private collectors!
For more information on the set of trading cards that this card is associated with, please read my review at: Star Trek The Next Generation Episode Collection Season Seven Trading Cards Set Review!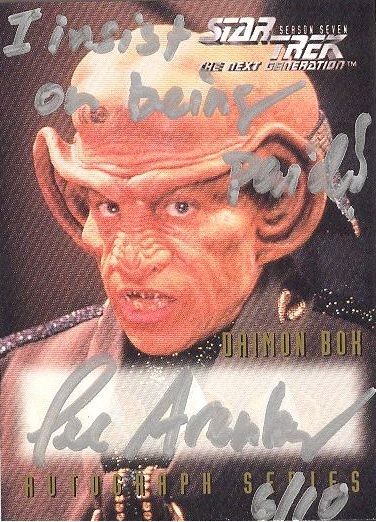 We gladly ship worldwide using the U.S. Postal service. W.L. Swarts Enterprises is not responsible for loss or damage in transit; please purchase shipping insurance to protect your order against loss/damage in transit. W.L. Swarts Enterprises prides itself on packing orders well. We pride ourselves on great customer service; please ask questions BEFORE purchasing and we will be happy to help!