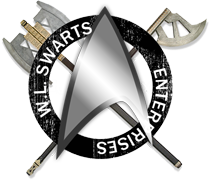 Your cart is currently empty
Art & Images Of Star Trek ArtiFex Card CZ1 Mirror, Mirror
This is the ArtiFex original art card CZ1 Mirror, Mirror from the bonus set of Art & Images Of "Star Trek" trading cards produced by Rittenhouse Archives! These cards are thicker foil cards featuring colored artwork of memorable scenes and characters from episodes of "Star Trek," redrawn by John Czop! These cards were found only one per box, so they are quite rare!
IMPORTANT NOTE: The ArtiFex foil card had a tendency to warp (curve inward slightly) when removed from pages and toploaders.
For more information on the set of trading cards that this card is associated with, please read my review of the set at: http://wlswarts.blogspot.com/2011/08/good-idea-goes-terribly-wrong-art.html !
Purchase any two sets/cards from the Art & Images Of "Star Trek" The Original Series inventory and receive a free promotional card from the set (while supplies last)!
We gladly ship worldwide using the U.S. Postal service. W.L. Swarts Enterprises is not responsible for loss or damage in transit; please purchase shipping insurance to protect your order against loss/damage in transit. W.L. Swarts Enterprises prides itself on packing orders well. We pride ourselves on great customer service; please ask questions BEFORE purchasing and we will be happy to help!