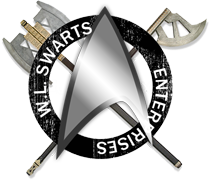 Your cart is currently empty
Star Trek 40th Anniversary Season 1 Captain Pike Card CP5
This is the complete Captain Pike card CP5 from the "Star Trek" 40th Anniversary Season 1 trading cards produced by Rittenhouse Archives! The set has beautiful shots of Jefferey Hunter as Captain Christopher Pike with different images on the front than on the back. These nine cards are great for anyone who loves "The Cage!"
These cards were found one in every fourteen packs, so it took at least three boxes to complete a single set and singles are hard to find!
For more information on the set of trading cards that this set is associated with, please read my review of the set at: http://wlswarts.blogspot.com/2010/11/star-trek-original-series-40th.html !
Purchase any two sets/cards from the "Star Trek" 40th Anniversary Season One inventory and receive a free promotional card from the set (while supplies last)!
We gladly ship worldwide using the U.S. Postal service. W.L. Swarts Enterprises is not responsible for loss or damage in transit; please purchase shipping insurance to protect your order against loss/damage in transit. W.L. Swarts Enterprises prides itself on packing orders well. If you have any questions on this product, please e-mail us PRIOR to purchase!