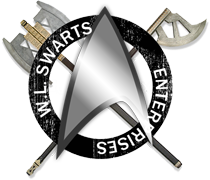 Your cart is currently empty
About Us
W.L. Swarts Enterprises was established in 1999 as our personal collection exploded into a full-blown business. Simply put, we LOVE non-sports trading cards!
The thing is, we love the hobby and we love our business. To keep that love alive, we have a pretty simple philosophy: we sell from what we love. In practical terms, that means that if I'm not a fan of the source material, we're not selling it in our store. Our emphasis is on "Star Trek," especially "Star Trek: Deep Space Nine" because that is what I love. We have a growing interest in trading cards based on Marvel & DC Comics, "Doctor Who," "Star Wars" and the James Bond franchise.
We also are proud to stock Decipher's long out-of-print trading card games for "Star Trek," "Star Wars," and "The Lord Of The Rings!" As the CCG markets dry up, check us out; we have a massive inventory of UNPLAYED CCG cards and we love helping our clients complete their collections or make their decks more powerful.
W.L. Swarts Enterprises is also a proud reseller of more obscure collectibles, like Hamilton Collection "Star Trek" and "Star Wars" collector's plates and Hallmark Keepsake ornaments for genre films and television shows.
Our inventory is constantly growing and we are happy to bounty hunt for clients who do not have the time to assemble their collections - if you have a want list, contact us and put us to work for you!