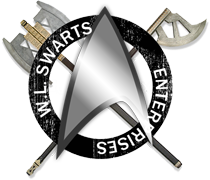 Your cart is currently empty
W.L. Swarts Enterprises Store Policies & About Us
Store Policies
Here are some general thoughts/policies you should know prior to ordering from us:

1. We are still a comparatively small business. We've been growing for decades, but we've never lost the boutique experience. We give our clients personal attention. At the end of the day, though, we're pretty much one person doing the breaking, sealing, scanning, bookkeeping, shipping, and market research. One of the things this means is that we respond to all emails ourself... and we ask for some patience in responding. The internet is open 24/7/365 - we eat, sleep, and do work away from the computer. Please give us time to research answers to questions you send.
2. We are a small business that sells pack-pulled trading cards. We have, literally, hundreds of thousands (probably millions at this point, if we're being honest) of trading and gaming cards. We're constantly working to get our inventory represented here in our store. It's tough; almost every time we devote time to it, people ask questions or buy things. It's a first-world problem, we know, and a problem we're happy to have: we love helping people to enhance their collections! But it also means we're generally not looking to buy. The most common message we get is: "I found this old box of cards cleaning out my [son/ex/deceased relation's] space. Would you buy it?" No, thank you. With very few exceptions, we do not buy anything but unopened product. It is one of the ways we maintain quality control; our cards are (generally) as the manufacturer made and packed them.
3. We are a business. While we do what we love, we're in the business of having a small business - we're looking to clear up our living space, contain our collection and afford to live. We are not a consignment house. We are not an essential service that anyone will die without (save our pets; they need us to keep making money so we can feed them). For all of my love of trading cards, they are not a need. We write this because we get a lot of people who try to haggle with us on prices. We get it, everyone wants a good deal. That said, it's also a market (prices fluctuate) and it's a non-essential. The most boring explanation of a business is that businesses have money tied up in product; your current financial situation does not impact how much the product cost(s) us to stock and carry. We do not haggle or accept "best offers." Our price is our price. Some of them are high; some cards are expensive and valuable. Some of our prices are decades out of date and you can find some real steals here (don't worry, we'll get around raising the prices eventually, but we're one person!). But trading card collecting is a hobby; we're not keeping food from starving orphans when we say "no, we don't negotiate on price, thank you." Please don't message us about price; we have a whole philosophy behind our pricing (inherent value) and if you want to buy from someone else, please feel free to - we don't need to hear about it.
4. Our shipping calculator... is generally good. We ship everything via the United States Postal Service. We insure EVERYTHING so we have a tracking number* (*shipped in the U.S.). The shipping calculator is very good for mid-range orders. The way the shipping calculator works is based on weight, but it gets pretty screwy at lighter objects and heavier objects. For a few single cards, the shipping is likely to be a little off - whenever possible, we refund shipping overcharges when they occur after the order is shipped. On the flip side, for bigger orders and international orders, we usually end up losing a little money on the shipping. Shipping rates are out of our control. Shipping times are out of our control as well - especially international shipping times. We insure or Register everything* (*shipped domestically), but once the order is shipped, it is out of our control. We insure against postal loss and damage and update the order record with a tracking number, but we have absolutely no ability to affect the speed at which mail moves.
5. Whenever possible, we offer Registered Mail as an option to our international clients. This is available for an added fee and is NOT automated by our shipping calculator. We operate on the assumption that people either read this page or check their e-mail, but whenever we receive an international order, we drop a message to offer buyers the Registered Mail option. It is a separate charge, but is the ONLY way to reliably track international orders (we learned this the hard way with UK orders when they stopped reliably scanning customs forms). It is incredibly important to note: our liability with PayPal ends with proof of shipment. We appreciate our foreign orders and we highly recommend Registered Mail service for peace of mind, but for cases brought to PayPal, they side with the seller when we can prove we shipped to the PayPal-approved address. Registered Mail service mitigates a lot of postal uncertainty, though it does take a little longer. We highly encourage buyers to spend the extra money and get Registered Mail service when it is offered.
6. We do not accept returns. We do not sell "on approval" and satisfaction is not guaranteed. We do not sell graded cards. We DO sell cards produced and packed by major trading card manufacturers - some of which no longer exist. In the case of gaming cards, we only sell unplayed cards. That said, Decipher's manufacturing and packing process was hardly flawless. Surface issues pop up. As we continue to go through the inventory, we are trying to be much more accurate and precise with our product desciptions. But a good guidepost here is to consider that all cards are being sold in "AS IS" condition and all sales are final. We do not sell graded cards and a vast number of cards we sell are not unique. As such, we avoid all drama by having a simple "no returns, sold as is" policy.
7. A note on quality. We do a quality check before all our orders ship, however a lot of things - notably common and chase card sets - were pulled, collated and sealed up when the product originally dropped (YEARS AGO!). Our sets are sealed in polybags and stored in card boxes in a climate-controlled, smoke-free environment. Some of our sets are packaged by the manufacturer(s). Many of our chase sets are also sealed in poly; we only use toploaders for single cards. Single card orders tend to be shipped, insured, non-machinable in plain envelopes. Because the cards do not go through postal machines, we've never had issues with cards reaching their destinations perfectly intact. During the COVID-19 pandemic card grading became a huge market. We do not sell graded cards. We are not in the market as a speculative investment. If you are, we are probably not the business with which you want to do business. The shift in mindset between card collectors and card investors has been... troubling to established businesses like ours. If you ever saw the equipment that trading cards pass over in the printing/cutting/packing out process you'd be amazed anything could ever get a gem mint rating. Mint is a continum, not an absolute - except in card grading. With almost no exceptions, our cards go from the pack to the polybag or toploader - they are exactly as they were packed out. We work hard to keep our products in exceptional condition and ship them so they will arrive to our clients in that condition. But, that said, not every card would be graded a 10 (one major manufacturer has on their website that their quality standards allow them to pack out anything they think would get an 8 or above... prior to the pack out and, believe me, some of the cards we've pulled from them are much lower in quality!). We're not card graders and we do not sell our cards with grading in mind. Cards are generally not flawless in every way. We work hard to maintain the quality of our stock, but purchasing from us with the expectation that anything or everything you purchase could get a high grade is an unrealistic expectation and please do not purchase from us. We check our products (as much as possible, for our previously-sealed products!) prior to shipment. Quality is important to us, but as the market has changed in the last few years we've been plagued by numerous individuals for whom fidelity to the truth is not a priority. Because the vast majority of the cards we sell are not unique, we have no ability to determine a card's true point-of-origin after it leaves our custody. To prevent us from falling prey to spurious claims that would degenerate into back and forths that are impossible to substantiate, we sell all our cards in "as is" condition. We do not accept returns.
8. We don't bite. We've been in business now for well over twenty years and the main way we have survived in this turbulent market is through customer service. If you have questions, please ask prior to purchase. Ask away and please be patient for a response. We value our clients and have built some wonderful relationships through our collecting and bounty hunting for clients. We look forward to serving you.
About W.L. Swarts Enterprises
W.L. Swarts Enterprises was established in 1999 as our personal collection exploded into a full-blown business. Simply put, we LOVE non-sports trading cards!
The thing is, we love the hobby and we love our business. To keep that love alive, we have a pretty simple philosophy: we sell from what we love. In practical terms, that means that if I'm not a fan of the source material, we're not selling it in our store. Our emphasis is on "Star Trek," especially "Star Trek: Deep Space Nine" because that is what I love. We have a growing interest in trading cards based on Marvel & DC Comics, "Doctor Who," "Star Wars" and the James Bond franchise.
We also are proud to stock Decipher's long out-of-print trading card games for "Star Trek," "Star Wars," and "The Lord Of The Rings!" As the CCG markets dry up, check us out; we have a massive inventory of UNPLAYED CCG cards and we love helping our clients complete their collections or make their decks more powerful.
W.L. Swarts Enterprises is also a proud reseller of more obscure collectibles, like Hamilton Collection "Star Trek" and "Star Wars" collector's plates and Hallmark Keepsake ornaments for genre films and television shows.
Our inventory is constantly growing and we are happy to bounty hunt for clients who do not have the time to assemble their collections - if you have a want list, contact us and put us to work for you!