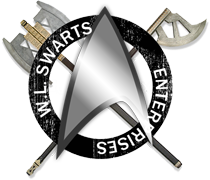 Your cart is currently empty
The Complete Star Trek Movies Gold Plaque Card Set - 10 Bonus Cards!
This is the Complete "Star Trek" Movies Gold Plaque card from the Complete "Star Trek" Movies trading cards produced by Rittenhouse Archives! These cards featured images from all ten "Star Trek" movies that were out when this set was originally made! With one card for each film, these are beautiful gold plaques that remind one of the cards SkyBox did for each episode of the original "Star Trek!" Mint! These cards were found one in each box, so it took at least ten BOXES to complete a set!
For more information on the set of trading cards that this card is associated with, please read my review of the set at: http://wlswarts.blogspot.com/2012/03/decent-cards-annoyingly-difficult-set.html !
We gladly ship worldwide using the U.S. Postal service. W.L. Swarts Enterprises is not responsible for loss or damage in transit; please purchase shipping insurance to protect your order against loss/damage in transit. W.L. Swarts Enterprises prides itself on packing orders well. We pride ourselves on great customer service; please ask questions BEFORE purchasing and we will be happy to help!