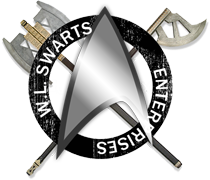 Your cart is currently empty
Tan Suede Sketchbook: A Quality Second Handmade Sketchbook
This is the brand new, handmade leather sketchbook by W.L. Swarts. While many people would relish the hand-crafted nature of the book and delight in the fact that it has a few flaws, the artist (W.L. Swarts) is annoyed by imperfections and insists on selling the less perfect ones at cost! What is our loss, though, is the gain of customers looking for a quality sketchbook at inexpensive prices. This sketchbook is bound in nice tan suede. The spine is stuck to the textblock on the inside and while this does not effect the function of the sketchbook, it is less pretty than first quality ones. As well, the leather flap on the inside of the cover is slightly exposed and a few of the pages in the actual text block are stuck together.
For more images of this sketchbook, please look at "Tan Suede" at: http://www.elftown.com/wiki.html?name=Handmade%20Sketch%20Books%21
This handmade leather sketchbook contains approximately 100 pages of paper and the text block (each page) is 8" tall by 5" wide. This book is approximately 8 3/4" X 6".
We gladly ship worldwide using the U.S. Postal service. W.L. Swarts Enterprises is not responsible for loss or damage in transit; please purchase shipping insurance to protect your order against loss/damage in transit. W.L. Swarts Enterprises prides itself on packing orders well. We pride ourselves on great customer service; please ask questions BEFORE purchasing and we will be happy to help!