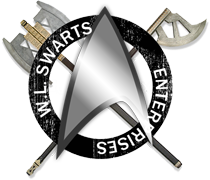 Your cart is currently empty
The Complete Star Trek Movies Costume Card MC14 Dr. Leonard McCoy x/1701 - Camoflage
This is the costume card chase card MC14 Dr. Leonard McCoy from "Star Trek V: The Final Frontier" from the Complete "Star Trek" Movies trading cards produced by Rittenhouse Archives! Mint! Each card features a fabric swatch from a set-worn costume or bolt of vabric used in the making of the costumes from the"Star Trek" films. Each of these cards is individually numbered out of 1701 with foil stamped numbers on the back. We have numbers: 1086, 1106, 1108, 1156, 1186, 1188, 1390, 1392. If you wish to request a specific number, you MUST let us know when placing the order (otherwise, you'll likely end up with the highest number we have at the time).
This costume card had variants and ALL of the ones in this listing have the camoflage fabric swatch (as pictured!). Costume cards in this series were found only two per box!
This is a great card for fans of the late, great DeForrest Kelley (Dr. Leonard McCoy)!
For more information on the set of trading cards that this card is associated with, please read my review of the set at: http://wlswarts.blogspot.com/2012/03/decent-cards-annoyingly-difficult-set.html !
Purchase any two sets/cards from the Complete "Star Trek" Movies inventory and receive a free promotional card from the set (while supplies last)!
We gladly ship worldwide using the U.S. Postal service. W.L. Swarts Enterprises is not responsible for loss or damage in transit; please purchase shipping insurance to protect your order against loss/damage in transit. W.L. Swarts Enterprises prides itself on packing orders well. If you have any questions, please ask PRIOR to placing your order!