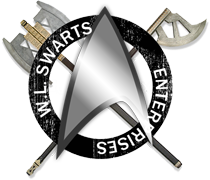 Your cart is currently empty
Second Anthology Premium Personnel - Klingon Jodmos
This is Jodmos, a rare Klingon Personnel card from the Second Anthology gaming cards produced by Decipher, Inc! Mint! Rare! This was a premium boxed set product with six exclusive cards. This listing is just for the one card!
This is a great card for fans of Avery Brooks(Jodmos, Captain Benjamin Sisko as a Klingon)!
For more information on the set of gaming cards that this card is associated with, please read my review of the set at: http://wlswarts.blogspot.com/2012/10/all-together-now-vol-2-little-addition.html !
We gladly ship worldwide using the U.S. Postal service. W.L. Swarts Enterprises is not responsible for loss or damage in transit; please purchase shipping insurance to protect your order against loss/damage in transit. W.L. Swarts Enterprises prides itself on packing orders well. Please e-mail us with any questions you have BEFORE purchasing!