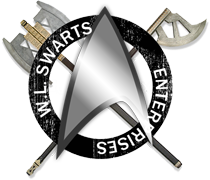 Your cart is currently empty
Q-Continuum CCG MASTER Set Of 120 Cards!
Mint set of 120 cards from the Star Trek Customizable Card Game First Edition Q-Continuum expansion, which focused on bringing Q and his related situations from"Star Trek: The Next Generation" in Star Trek CCG gameplay! Includes all 40 common, 40 uncommon, and 40 rare cards from the set! This is everything in one neat and easy package! Mint and unplayed!
The complete list of cards is as follows:

R Blade Of Tkon Artifact R Canar Artifact R Mona Lisa Artifact U Android Nightmares Dilemma R Bendii Syndrome Dilemma C Chinese Finger Puzzle Dilemma U Q's Vicious Animal Things Dilemma U Royale Casino: Craps Dilemma C Security Precautions Dilemma R System-wide Cascade Failure Dilemma R The Sheliak Dilemma R Yuta Dilemma R Manheim's Dimensional Door Doorway C Q's Tent Doorway C Q-Flash Doorway C Anti-matter Pod Equipment C Plasmadyne Relay Equipment U Barber Pole Event R Brainwash Event R Calamarain Event U Discommendation Event R Doppelganger Event R Drag Net Event C Drought Tree Event U Heisenberg Compensators Event R I am NOT a Merry Man! Event U Immortal Again Event R Klingon Civil War Event U Transfiguration Event R Zalkonian Storage Capsule Event C Colony Facility Neutral R Terraforming Station Facility Neutral R Arbiter Of Succession Interrupt C Data's Medals Interrupt C End Transmission Interrupt U Klingon Painstik Interrupt C Off Switch Interrupt C Parallax Arguers Interrupt C Plexing Interrupt U Wrong Door Interrupt R Investigate Legend Mission C ❖ Nebula Mission R Paxan Mission R Plague Planet Mission R Samaritan Snare Mission C ❖ Space Mission R Tarchannen Study Mission C ❖ Gibson Personnel Federation R Juliana Tainer Personnel Federation R Katherine Pulaski Personnel Federation R Keiko O'Brien Personnel Federation R Lal Personnel Federation U Mirasta Yale Personnel Federation U Mordock Personnel Federation R Mr. Homn Personnel Federation U Rager Personnel Federation U Robin Lefler Personnel Federation U Sonya Gomez Personnel Federation U T'Shanik Personnel Federation C ❖ K'chiQ Personnel Klingon U K'nera Personnel Klingon U Kahlest Personnel Klingon U Kitrik Personnel Klingon R Data's Body Personnel Non-Aligned R Galen Personnel Non-Aligned R Ira Graves Personnel Non-Aligned U Jenice Manheim Personnel Non-Aligned U John Doe Personnel Non-Aligned U Kareen Brianon Personnel Non-Aligned U Kova Tholl Personnel Non-Aligned R Madam Guinan Personnel Non-Aligned R Madred Personnel Non-Aligned U Marouk Personnel Non-Aligned R Mortal Q Personnel Non-Aligned R Nick Locarno Personnel Non-Aligned R Paul Manheim Personnel Non-Aligned U Samuel Clemens Personnel Non-Aligned C ❖ Soong-type Android Personnel Non-Aligned R Tarmin Personnel Non-Aligned U Timicin Personnel Non-Aligned U Ves Alkar Personnel Non-Aligned R Zon Personnel Non-Aligned U Sirol Personnel Romulan R Taris Personnel Romulan U Telak Personnel Romulan C Go Back Whence Thou Camest Q Dilemma U Guilty - Provisionally Q Dilemma U His Honor, The High Sheriff Of Nottingham Q Dilemma C Mandarin Bailiff Q Dilemma C Pla-net Q Dilemma C Aldebaran Serpent Q Event C Amanda's Parents Q Event C Door-net Q Event U Frigid Q Event C Into The Breach Q Event C Jealous Amanda Q Event C Military Privilege Q Event U Penalty Box Q Event C Scottish Setter Q Event C Tijuana Crass Q Event C Trust Me Q Event C You Will In Time Q Event C Are These Truly Your Friends, Brother? Q Interrupt C Dr. Q, Medicine Entity Q Interrupt C Gift of the Tormentor Q Interrupt C Incoming Message - The Continuum Q Interrupt C Lemon-aid Q Interrupt C Subsection Q, Paragraph 10 Q Interrupt C The Higher ... The Q-er Q Interrupt U The Issue Is Patriotism Q Interrupt U The Naked Truth Q Interrupt U Wesley Gets The Point Q Interrupt U Where's Guinan? Q Interrupt U Q's Planet Q Mission R U.S.S. Stargazer Ship Federation R I.K.C. Maht-H'a Ship Klingon U I.K.C. T'Ong Ship Klingon C ❖ Zalkonian Vessel Ship Non-Aligned U T'Pau Ship Romulan R Terix Ship Romulan
For more information on this set of cards, please check out my review of it at: http://wlswarts.blogspot.com/2011/12/with-emergence-of-q-continuum-star-trek.html
We gladly ship worldwide using the U.S. Postal service. W.L. Swarts Enterprises is not responsible for loss or damage in transit; please purchase shipping insurance to protect your order against loss/damage in transit. W.L. Swarts Enterprises prides itself on packing orders well. Please e-mail us with any questions you have BEFORE purchasing!