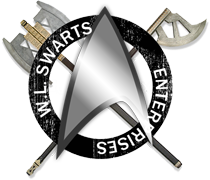 Your cart is currently empty
The Trouble With Tribbles CCG MASTER Set Of 141 Cards!
Mint set of 141 cards from the Star Trek Customizable Card Game First Edition The Trouble With Tribbles expansion, which focused on the tribble episodes from "Star Trek" and "Star Trek: Deep Space Nine" in Star Trek CCG gameplay! Includes all 40 common, 40 uncommon, 2 starter deck exclusive, 58 rare and one Ultra Rare cards from the set along with a wrapper! This is everything INCLUDING the Ultra Rare in one neat and easy package! Mint and unplayed!
The complete list of cards is as follows:
1 R Orb of Time Artifact
2 R Chula: The Drink Dilemma
3 C Chula: The Way Home Dilemma
4 R Executive Authorization Dilemma
5 R Ferengi Infestation Dilemma
6 C Lineup Dilemma
7 C Oops! Dilemma 8 U Palukoo Dilemma 9 C Q Gets The Point Dilemma 10 R Storage Compartment Door Doorway 11 R Classic Communicator Equipment 12 U Classic Medical Tricorder Equipment 13 U Classic Tricorder Equipment 14 R Classic Type II Phaser Equipment 15 U VR Headset Equipment 16 R 62nd Rule of Acquisition Event 17 C Organian Peace Treaty Event 18 C Subspace Transporter Event 19 C Temporal Investigations Event 20 C Treaty: Cardassian/Bajoran Event 21 C Treaty: Romulan/Bajoran Event 22 R Deep Space Station K-7 Facility Federation 23 R Chain Reaction Ricochet Incident 24 U Homefront Incident 25 R HQ: Orbital Weapons Platform Incident 26 R Make It So Incident 27 U Obelisk of Masaka Incident 28 C Panel Overload Incident 29 U Q the Referee Incident 30 R Resistance is Futile Incident 31 U Tribble Bomb Incident 32 U We Look for Things Incident 33 U Burial Ground Interrupt 34 C Live Long And Prosper Interrupt 35 U Obedience Brings Victory Interrupt 36 C Scan Cycle Check Interrupt 37 C Suicidal Attack Interrupt 38 U Agricultural Assessment Mission 39 C Assign Support Personnel Objective 40 R Council of Warriors Objective 41 U Defend Homeworld Objective 42 U Hero of the Empire Objective 43 R+ First Minister Shakaar Personnel Bajoran 44 U Sarish Rez Personnel Bajoran 45 C ❖ Six of Thirteen Personnel Borg 46 R+ Third of Five Personnel Borg 47 U Broca Personnel Cardassian 48 R+ Kira Personnel Cardassian/Bajoran/Federation 49 R ❖ Amet'alox Personnel Dominion 50 C ❖ Lam Personnel Dominion 51 R+ Thot Gor Personnel Dominion 52 U Thot Pran Personnel Dominion 53 R ❖ Varat'idan Personnel Dominion 54 U B.G. Robinson Personnel Federation 55 R Captain Kirk Personnel Federation 56 UR Dr. McCoy Personnel Federation 57 R+ Dulmer Personnel Federation 58 R+ Ensign Chekov Personnel Federation 59 R+ Ensign O'Brien Personnel Federation 60 R+ Lt. Bailey Personnel Federation 61 R+ Lt. Bashir Personnel Federation 62 U Lt. D'Amato Personnel Federation 63 R+ Lt. Dax Personnel Federation 64 C ❖ Lt. Grant Personnel Federation 65 U Lt. Nagata Personnel Federation 66 P Lt. Sisko Personnel Federation 67 R+ Lt. Sulu Personnel Federation 68 R+ Lt. Uhura Personnel Federation 69 U Lt. Watley Personnel Federation 70 R+ Lucsly Personnel Federation 71 R+ Mr. Scott Personnel Federation 72 R+ Mr. Spock Personnel Federation 73 U Nilz Baris Personnel Federation 74 U Falar Personnel Ferengi 75 R+ Lumba Personnel Ferengi 76 C ❖ Mordoc Personnel Ferengi 77 R+ Arne Darvin Personnel Klingon 78 P Captain Koloth Personnel Klingon 79 C ❖ Daval Personnel Klingon 80 C ❖ Kered Personnel Klingon 81 U Korax Personnel Klingon 82 U Kras Personnel Klingon 83 U Thopok Personnel Klingon 84 U Tumek Personnel Klingon 85 R+ Barry Waddle Personnel Non-Aligned 86 C ❖ Danderdag Personnel Non-Aligned 87 U Gem Personnel Non-Aligned 88 R+ Grebnedlog Personnel Non-Aligned 89 U Liam Bilby Personnel Non-Aligned 90 R+ Odo Personnel Non-Aligned 91 U Reginod Personnel Non-Aligned 92 R+ Worf Personnel Non-Aligned 93 C ❖ Yint Personnel Non-Aligned 94 C ❖ Jenok Personnel Romulan 95 U Kalenna Personnel Romulan 96 R+ Keras Personnel Romulan 97 R+ The Centurion Personnel Romulan 98 R+ Velal Personnel Romulan 99 U Q-type Android Q Dilemma 100 U ❖ Bajoran Raider Ship Bajoran 101 U Bok'Nor Ship Cardassian 102 R Stolen Attack Ship Ship Cardassian/Federation 103 R ❖ Breen Warship Ship Dominion 104 R ❖ Dominion Battleship (Alt Image) Ship Dominion 105 R Weyoun's Warship Ship Dominion 106 C ❖ Columbus Ship Federation 107 C ❖ Starship Constitution Ship Federation 108 R+ Starship Enterprise Ship Federation 109 R Brunt's Shuttle Ship Ferengi 110 R+ I.K.C. Gr'oth Ship Klingon 111 R I.K.C. Ning'tao Ship Klingon 112 U Mondor Ship Non-Aligned 113 R Gal Gath'thong Ship Romulan 114 U Bajoran Shrine Site
115 C Bajoran Phaser Banks Tactic
116 C Breen Disruptor Burst Tactic
117 R Breen Energy-dampening Weapon Tactic
118 U Chain Reaction Pulsar Tactic
119 U Sherman's Peak Time Location
120 C 1 Tribble - Bonus Tribble
121 C 1 Tribble - Discard Tribble
122 C 1 Tribble - Go Tribble
123 U 10 Tribbles - Bonus Tribble
124 U 10 Tribbles - Go Tribble
125 U 10 Tribbles - Poison Tribble
126 U 100 Tribbles - Bonus Tribble
127 U 100 Tribbles - Poison Tribble
128 U 100 Tribbles - Rescue Tribble
129 R* 1,000 Tribbles - Bonus Tribble
130 R* 1,000 Tribbles - Discard Tribble
131 R* 1,000 Tribbles - Rescue Tribble
132 R+ 10,000 Tribbles - Go Tribble
133 R+ 10,000 Tribbles - Poison Tribble
134 R+ 10,000 Tribbles - Rescue Tribble
135 R+ 100,000 Tribbles - Clone Tribble
136 R+ 100,000 Tribbles - Rescue Tribble
137 R+ 100,000 Tribbles - Discard Tribble
138 R ... in the Engine Room Trouble
139 C ... in the Transporters Trouble
140 C ... On The Bridge Trouble
141 C ... On The Station Trouble
For more information on this set of gaming cards, please read my review at: Star Trek The Trouble With Tribbles CCG Set Review!
We gladly ship worldwide using the U.S. Postal service. W.L. Swarts Enterprises is not responsible for loss or damage in transit; please purchase shipping insurance to protect your order against loss/damage in transit. W.L. Swarts Enterprises prides itself on packing orders well. Please e-mail us with any questions you have BEFORE purchasing!