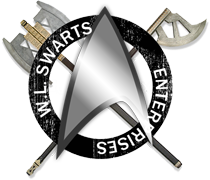 Your cart is currently empty
507 pages.
ISBN-13: 978-1-4363-9457-4
ISBN: 1-4363-9457-0
Novelist W.L. Swarts returns with Living In The Wakes, the author's clever second novel! EACH order comes hand signed by the author!
From the back of the book:
"Say it to my face."
Inspired by an episode of his favorite television show, Lee Willnaught fi nds himself drawn to tell those in his life how he feels about them. Stymied by how most people do not articulate their true feelings until after the people in their life are dead, Lee and his mentor throw a mock-wake, which allows them to buck that trend and create a context where a group of friends may articulate honestly to one another.
Over the course of the eight years that follow, sixteen friends will gather to tell stories every six months, express emotions and connect in an uncommon way. But among the group, there are those who have deep secrets, from alliances with nefarious scientists to those tapping into magical forces beyond their control. This group, which includes a scientist, an artist, a U.N. translator, a teacher, a witch and several businessmen, stands at the intersection of major world events. And what starts as a simple emotional exercise soon becomes something much larger, with the potential to change the lives of everyone involved . . . and beyond!
Each copy comes hand signed by the author; if you wish it to be inscribed to a person other than whose name is on the account, please put a note in with your purchase.