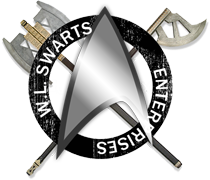 Your cart is currently empty
Star Trek Aliens Sticker Card Set - 18 Card Sticker Set!
MINT! This is the complete 18 card Alien Stickers card set of "Star Trek" Aliens trading cards produced by Rittenhouse Archives! The set focuses on the aliens from all five "Star Trek" series. Each sticker card has a bright picture that is an actual sticker! These cards were found one in every 16 packs, so it took a complete CASE to make a single set! Great for fans of the entire "Star Trek" franchise!
For more information on the set of trading cards that this set is associated with, please read my review of the set at: Star Trek Aliens Trading Card Set Review!
This set includes cards:
S1 - Spock
S2 - Seven Of Nine
S3 - Worf
S4 - Guinan
S5 - Quark
S6 - Deanna Troi
S7 - Tuvok
S8 - Dax
S9 - Neelix
S10 - Constable Odo
S11 - T'Pol
S12 - Kira Nerys
S13 - Dr. Phlox
S14 - B'Elanna Torres
S15 - Q
S16 - Borg Queen
S17 - Saavik
S18 - Sarek
Purchase any two sets/cards from the "Star Trek" Aliens inventory and receive a free promotional card from the set (while supplies last)!
We gladly ship worldwide using the U.S. Postal service. W.L. Swarts Enterprises is not responsible for loss or damage in transit; please purchase shipping insurance to protect your order against loss/damage in transit. W.L. Swarts Enterprises prides itself on packing orders well. If you have any questions on this product, please e-mail us PRIOR to purchase!