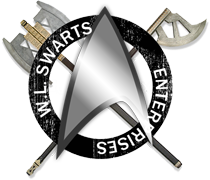 Your cart is currently empty
Buffy The Vampire Slayer Ultimate Collector's Set 3 Dual Autograph - Alyson Hannigan/Alexis Denisof
MINT! This is the Alyson Hannigan As Willow Rosenberg and Alexis Denisof As Wesley Wyndham-Pryce Dual Autograph card from the Buffy The Vampire Slayer Ultimate Collector's Set 3 trading cards produced by Rittenhouse Archives! The set was released in 2017 as a celebration of the 20th Anniversary of "Buffy The Vampire Slayer" and this was the only dual autograph in the set and it was a multi-order incentive card! Mint, still sealed in its toploader from Rittenhouse Archives!
Dealers had to order two sets just to get a single one of these incentive cards, so they are VERY RARE!
We gladly ship worldwide using the U.S. Postal service. W.L. Swarts Enterprises is not responsible for loss or damage in transit; please purchase shipping insurance to protect your order against loss/damage in transit. W.L. Swarts Enterprises prides itself on packing orders well. We pride ourselves on great customer service; please ask questions BEFORE purchasing and we will be happy to help!