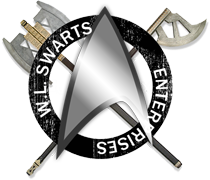 Your cart is currently empty
Reflections 2.0 6P41 Yarka, Harbinger Of The Prophets
This is the Reflections 2.0 rare foil gaming card 6P41 Yarka, Harbinger Of The Prophets a Bajoran Personnel card produced by Decipher, Inc! Mint! Straight from the pack to you!
This is a great card for fans of Eric Avari (Yarka)!
Image does not do justice to how nice this card looks; it is a foil card!
For more information on the set of gaming cards that this card is associated with, please read my review of the set at: http://wlswarts.blogspot.com/2013/04/my-2000th-review-simple-repack-theatre.html !
We gladly ship worldwide using the U.S. Postal service. W.L. Swarts Enterprises is not responsible for loss or damage in transit; please purchase shipping insurance to protect your order against loss/damage in transit. W.L. Swarts Enterprises prides itself on packing orders well. Please e-mail us with any questions you have BEFORE purchasing!