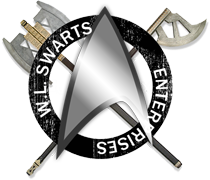 Your cart is currently empty
Doctor Who Timeless Daleks Across Time Set - 10 Card Set!
Price:
0.00
$25.00
$20.00
This is the complete 10 card set of Doctor Who Timeless Daleks Across Time chase cards produced by Topps! The set focuses on the popular villains The Daleks as they were encountered by various Doctors over the years. These cards were found one in every four packs and it took at least two BOXES to complete a single set. A great set for anyone who loves the entire "Doctor Who" franchise!
This set includes the cards:
1 Of 10 - The Daleks
2 Of 10 - The Dalek Invasion Of Earth
3 Of 10 - Genesis Of The Daleks
4 Of 10 - Resurrection Of The Daleks
5 Of 10 - Dalek
6 Of 10 - Daleks In Manhattan / Evolution Of The Daleks
7 Of 10 - Victory Of The Daleks
8 Of 10 - Asylum Of The Daleks
9 Of 10 - Into The Dalek
10 Of 10 - The Magician's Apprentice
We gladly ship worldwide using the U.S. Postal service. W.L. Swarts Enterprises is not responsible for loss or damage in transit; please purchase shipping insurance to protect your order against loss/damage in transit. W.L. Swarts Enterprises prides itself on packing orders well. If you have any questions on this product, please e-mail us PRIOR to purchase!