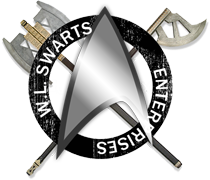 Your cart is currently empty
Star Trek The Next Generation Profiles F7 Mintakans
This is the Star Trek The Next Generation Profiles First Contact foil-enhanced card F7 Mintakans from the "Star Trek: The Next Generation" Profiles trading cards produced by SkyBox! These cards feature images of aliens encountered for the first time during "Star Trek: The Next Generation!" These cards were one in every four packs, but are still a challenge to find!
For more information on the set of trading cards that this card is associated with, please read my review of the set at: http://wlswarts.blogspot.com/2011/12/perhaps-lamest-of-star-trek-next.html !
We gladly ship worldwide using the U.S. Postal service. W.L. Swarts Enterprises is not responsible for loss or damage in transit; please purchase shipping insurance to protect your order against loss/damage in transit. W.L. Swarts Enterprises prides itself on packing orders well. We pride ourselves on great customer service; please ask questions BEFORE purchasing and we will be happy to help!